How To Dress Vintage In Cold Weather: Men's Edition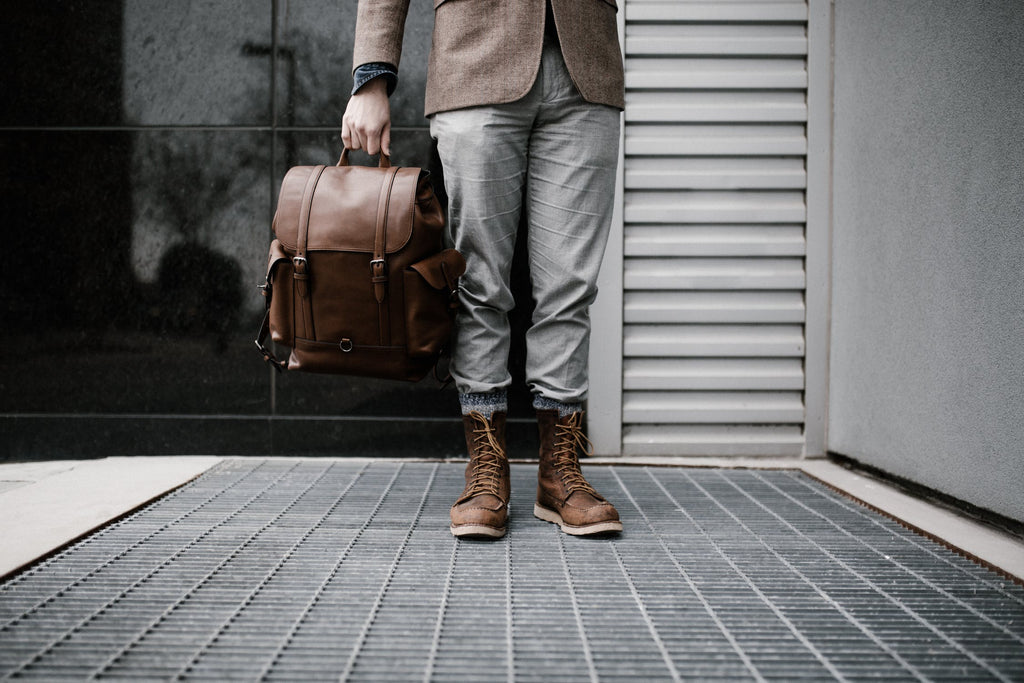 As we all know, keeping your wardrobe fresh and stylish during the colder months can be challenging, especially when the evenings start to get bitter, there's more rain and it's easier to reach for those old bulky favourites to stave off the chill.
But for those of us committed to the vintage and retro look, this can be a major wardrobe killer. We're firm believers that vintage isn't just for the summer months, it's for life! 
So we've come up with several handy tips so you can keep warm as the weather starts to turn, and keep up the vintage inspired looks every day. 
From men's vintage style jackets to bring a classy finish and an extra layer, to thicker, hardier underlayers for extra warmth. We've got you covered!
When In Doubt, Tweed It Out
While the summer is all about light cottons, fibres and linens, the winter months are definitely all about layers. Thick, quality fabrics like tweed and wool start to come into their own as soon as the leaves begin to turn that muddy brown colour, and we really would be lost without these hardy, but stylish, materials.
This is especially important to remember when it comes to men's vintage style jackets and coats - keep an eye out for 100% wool and tweed. 
Something like our Crombie style overcoat is perfect for autumn and winter, effortlessly combining that chic style with thick, high quality wool which is designed to be highly insulating.
Tweed is a great addition to any wardrobe. It's a fabric truly steeped in vintage fashion, and with a men's vintage style jacket made of this fantastic fabric, you can't go wrong! Tweed is also moisture resistant, long wearing, and retains heat - making it a perfect fabric for outdoor or indoor wear during the colder months.
Team a tweed jacket with a smart waistcoat, trousers and a tailored shirt for a perfect vintage inspired autumn outfit.
Why not check out our other mens' vintage style jackets, for some handy inspiration if you're feeling a bit stumped when it comes to autumn essentials? 
Button It Up 
Buttoned shirts are another autumn must-have, to add a thicker layer underneath your retro inspired jumpers or vests.
These classic shirts can also be utilised for casual or smart occasions, considering the vast array of patterned shirts available, or the timeless look of that crisp white shirt adorned with a cravat, or underneath your waistcoats. 
You'll look effortlessly put together wearing your buttoned shirt with a sweater vest or cardigan too, and never underestimate the appeal of long shirt sleeves finished with cufflinks underneath a vintage style jumper. 
Even better, layer a smart or casual button up shirt underneath your men's vintage style jacket and you're onto a winner.
Knitwear To The Rescue
We can't speak about autumn essentials without stating the obvious - jumpers! Jumpers everywhere!
Autumn and winter are the perfect times in which to layer up with a perfectly crafted vintage jumper - or any knitted garment. As a staple of men's vintage wear, knitted garments have been popular for hundreds of years. Though they truly came into their own during the early 20th century.
Jumpers and knitted items were the go to for sporting activities, but now you can don a knitted item for any occasion and look perfectly in place. Try a pullover, or V-neck jumper with a smart button up for a stylish, vintage inspired look. However, the most popular pattern within vintage fashion is the Fair Isle, with its distinctive knotted look of hexagons, squares, circles or crosses and thick fabric. 
Layer your Fair Isle jumper with a classic shirt, 1940s style trousers and add on a wool or tweed men's vintage style jacket for a finished look. 
Did You Say Denim?
Although jeans were worn as early as the 19th century, it was the rebellious youth of the 50s and 60s that made this item a staple of vintage and retro fashion. 
Functional, and practical, you can't go wrong with a pair of high quality jeans - no matter the season! This item really needs no introduction. We all know and love how effortlessly cool jeans look. And when paired with your autumn vintage jumpers, jackets, shirts or vests, you can create a vintage style outfit with almost no hassle. 
Accessorise
Where would we be without accessories? Grab those scarves, hats and gloves during autumn for an easy way to add complimentary finishing touches to your outfits without compromising your vintage style.
Driving gloves are a particularly on-brand item, often made from leather or fine wool and tweed. These gloves continue to be a staple of vintage fashion, and add that extra layer of much needed warmth to keep your fingers happy. 
Try a flat cap for a hack back to the industrial 20s, or a finely knitted scarf for a sophisticated flair. 
And we can't overstate the importance of warm underlayers! Source some high quality undergarments that are designed to be either thermal in nature, or made from quality cotton and fibres designed to be insulating. Then you can get creative with your outfits, knowing you've got those critical under layers sorted. 
Whatever look you decide to go for this autumn, dress with confidence, and you'll achieve your perfect vintage inspired look that will turn heads. As we said, vintage is a lifestyle choice, so go forth and serve!