How To Dress Like A 60s Fashion Icon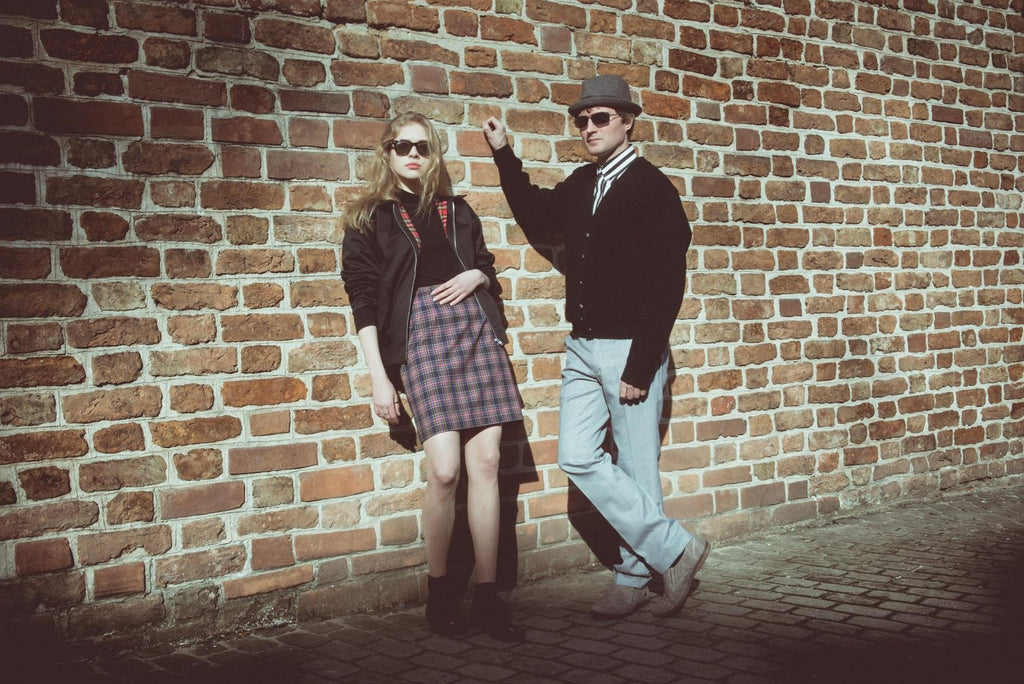 The Swinging 60s
The sixties has remained a timeless decade for fashion due to the divergent fashion trends. 60s fashion gave birth to styles such as Mod, Skinhead, Ska & Bohemia. The iconic decade saw fashion take inspiration from music from bands such as the Jam, film icons such as James Bond, locations like London's Carnaby Street and civil rights movements spawning subversive subcultures.
It was the decade that saw the assassination of Martin Luther King and J. F Kennedy as well as the Vietnam war. Such divisive events were important in defining a youth counterculture in the UK and US, with 60s fashion evolving as a statement of rebellion and belonging outside of traditional society.
Let Relco London take you on a whistle stop tour of the prominent UK fashion trends of the swinging sixties, to help inspire your own mod, skinhead or Ska look.
60s Fashion Trends for Men
Mod Fashion
To perfect your mod look, you need to think slim fitting, tailored styles featuring narrow cuts and clean lines. Evolving out of the Teddy Boys look, mod fashion adopted tailored pinstripe suits with skinny ties and button down cotton shirts. Mod 60s fashion evolved to include polo shirts, sta prest trousers and winkle pickers.
The key to perfecting the mod look is to keep the clothing fitted to the body. For formal occasions, choose a slim-fitting tonic suit, with narrow trousers and thin lapels. For less formal occasions, pick a patterned Oxford shirt and tweed or dogtooth trousers. Over the top, choose a dovetail parka to protect your tailored 60s look.
The mod hairstyle is vital to finish off any 60s fashion statement. Long around the back and sides coupled with choppy layers on top; think Liam Gallagher and a more modern reference and you won't go far wrong. 
Shop classic 60s mod style clothing and vintage clothing online via our website for all the inspiration you need.
Skinhead Fashion
Most first wave 60s skinheads were not completely shaven, but chose a grade one or two cropped haircut. 
As they made their way to a Ska concert, they'd wear long-sleeve or short-sleeve button-down checked shirts or alternatively paired with braces. Alternatively, skinheads wore polo shirts with black straight-leg high ankle jeans with braces, or plain tee-shirts with the classic Harrington bomber jacket. This was complemented with Dr. Martens boots.
60s Fashion Trends for Women
London's Mod scene had a big impact on women's fashion during the latter half of the 60s. The 50s box dresses began to be replaced with sharper, closer fitting skirts and dresses, defining the waistline. 
By the late 60s fashion trends had shifted again, with many women adopting the same style as their male mod counterparts, often wearing the same outfits.
Influenced by jazz and art-house films, tailored fashion was extremely important to women of the subculture, and looking smart and stylish was of the utmost importance. Mod women favoured mini-skirts in two tone, dogtooth and tonic, whilst pinafore dresses were also popular. This was paired with flats. 
Check out women's vintage clothing and retro style clothing online via our website for more inspiration!